Basic approach
The Hodogaya Chemical Group strives to create values for the various stakeholders including our shareholders, customers, partner companies, local communities, and employees; contribute to the development of domestic and global economies and industries for the prosperity of society; ensure the soundness and legality of management; and increase efficiency, all the while steadily supplying" Only One/Number One" specialty products in the global and niche markets. We have established these targets as highest priority of management as we work toward enhancing and strengthening our corporate governance system.
▪Initiatives to strengthen corporate governance
| | | |
| --- | --- | --- |
| June | 2003 | Introduction of executive officer system |
| March | 2004 | Abolishment of directors' retirement benefits program |
| May | 2006 | Formulation of Basic Policy on Internal Control |
| November | 2006 | Establishment of Internal Control Department |
| June | 2013 | Start of appointment of Outside Directors |
| June | 2015 | Transition to a Company with Audit & Supervisory Committee |
| July | 2016 | Introduction of stock-based compensation plan |
| January | 2018 | Shift into new management structure |
Corporate governance system
iming to ensure the effectiveness of our corporate governance and to improve our corporate value, Hodogaya Chemical made a transition to a" Company with an Audit & Supervisory Committee" structure in June 2015, to further strengthen the Board of Directors' supervisory functions with the participation of Outside Directors.
To increase the speed and agility of corporate management, Directors are entrusted with the decision-making on all business operation matters other than matters that should be solely for the Board of Directors to determine as required by laws and regulations. Meanwhile, Directors report the performance of their duties to the Board of Directors, as well as mutually monitor and supervise the performance of duties with other Directors. The Audit & Supervisory Committee supports the supervisory functions of the Board of Directors, and evaluates the Board of Directors by assessing mainly such items as to whether the Board of Directors is conducting thorough discussions on the appropriate agenda items based on its role, and whether a sufficient support system is in place to enhance the content of discussions at the Board of Directors' meeting.
Additionally, in January 2018, the Company shifted into a new management structure which facilitates separation of the" strategic decision-making and supervisory functions of management" from the "prompt executive functions of business strategy," with a view to further strengthen its supervisory and executive functions. As a result, the number of Directors who are not Audit & Supervisory Committee Members has been reduced from seven to three. Accordingly, the ratio of Outside Directors is now 37.5%.
Criteria for independence of Outside Directors
At Hodogaya Chemical, candidates for independent outside directors are selected from among those who meet the Tokyo Stock Exchange's requirements of independence and possess extensive experience and knowledge.
Accordingly, the Company has registered three of the Outside Directors as independent officers specified by the Tokyo Stock Exchange, and if the Substitute Director Who Is an Audit & Supervisory Committee Member is appointed as Director, the Company intends to register him as independent officer specified by the exchange.
Note that one of the Outside Directors and the Substitute Director Who Is an Audit & Supervisory Committee Member had been employees of a financial institution which is a major lender to the Company; however, nine years have elapsed since they left said financial institution. Therefore, the Company deems that there are no concerns over their independence.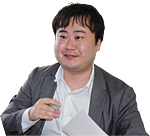 Legal Department
Attorney
Masayuki Kamigauchi
Everything begins from information gathering
Every task at the Legal Department begins by gathering information. We cannot draft an appropriate contract unless we understand the laws and regulations and rulings that serve as precedents to the objectives we want to achieve. Handling legal disputes is also part of our job, and my experience as an attorney has helped me gain some insight on how to resolve disputes.
Highly accurate information is essential in delivering quality results, but since the rules such as laws, regulations and precedents are changing every day together with the change in society, I try to keep my knowledge updated at all times. Corporate governance cannot be enhanced and strengthened unless not only the Legal Department but also all employees implement it, recognizing its importance, so I am hoping to support this initiative through my daily work.