The Hodogaya Chemical Group is devoting its efforts on "HONKI 2020", a 6-year mid-term management plan that began in FY2015 (FY2015 – FY2020).
(Hodogaya as Only one, Number one with our Key technology and Imagination)
We aim to become a corporation that steadily supplies "Only One/Number One" specialty products in the global and niche markets by FY2020, and to achieve this, we will prepare ourselves for future growth.
Outline of "HONKI 2020"
Each business is classified into one of the four stages of growth, and we focus on strengthening core businesses while enhancing and cultivating the businesses of the future.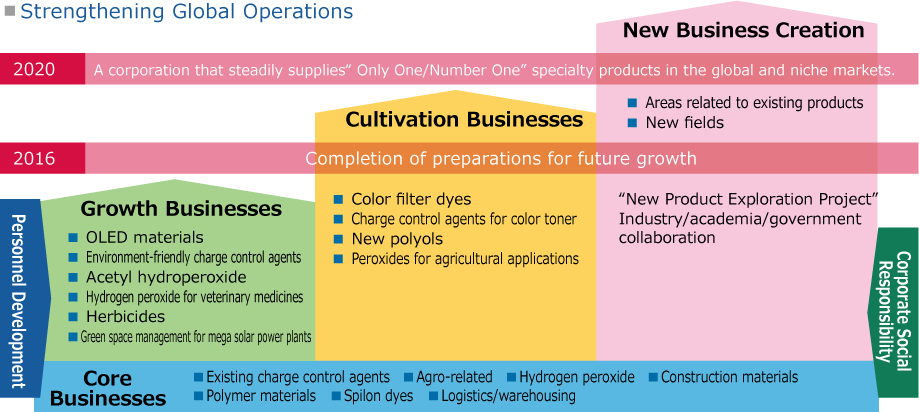 Performance target for "HONKI 2020"
Operating profit

5 billion yen
"HONKI 2020" 6 Policies
Policy 1
Regaining Competitive Strength, and Securing a Stable Revenue Base
- Core Businesses
Basic Approach
Cutting costs
Improving production capacity
Developing new applications
Expanding global business
Policy 2
Establishing a Pillar for the Next Generation
- Growth Businesses
Basic Approach
Expand sales and market share in growing markets
Strategic investment
Policy 3
Expanding Our Sphere of Activity by Creating New Value
- Cultivation Businesses New Business Creation
≪Cultivation Businesses≫
Basic Approach
Creation of new products
Expansion of sales and market share
≪New Businesses Creation≫
Basic Approach
Striving to achieve 5,000 million yen in new product sales in 2020.
Using the strengths in organic synthesis and manufacturing technologies that we have cultivated over the course of our long history as a foundation for our capabilities in "High Purity Technologies", "Development of Functional Materials", and "Evaluation of Functional Materials", we will endeavor to contribute to a world of abundance.
Policy 4
Strengthening Global Operations
Basic Approach
Promotion of business activities in global and niche markets on the basis of a firm understanding of customer needs.
Policy 5
Cultivating Personnel for a Diversifying Society
Basic Approach
Energizing the Group by training employees to "think, investigate, and act".
Policy 6
Enhancing our Commitment to CSR (Corporate Social Responsibility)
Basic Approach
Maintaining and deepening the trust held in us by all stakeholders, and contributing to social development.