Basic approach
We recognize that managing information on all of our stakeholders is essential in performing our business fairly.
In purchasing raw materials, commercial goods, and OEM products, we consider all of our partner companies as good partners of the Hodogaya Chemical Group, and work together in resolving social issues.
Information security
We manage corporate data as confidential information, and set forth the Information Security Policy to ensure the security of information. Under this Policy, we ensure that information is obtained, used, disclosed, managed, and protected properly, and comply with related laws and regulations including the Unfair Competition Prevention Act and regulations on insider trading. All of our officers and employees strive to increase awareness of information security and implement security measures.
Proper management of personal information
The Hodogaya Chemical Group has established and announced the Personal Information Protection Policy in order to ensure proper handling of personal information at the organizational level, and further set forth the Personal Information Management Rules and the Specific Personal Information Management Rules.
We will abide by the laws and regulations on the handling of personal information and individual numbers, and promote the proper storage, utilization, and management of such information within the scope of use as defined in the Policy and Rules, and conduct education and enlightening activities for all officers and employees.
We are also working to comply with the EU General Data Protection Regulation (GDPR) which came into force on May 25, 2018 with the aim of protecting the personal data of the European Economic Area, including the EU.
Procurement Policy
The Group sets forth the Procurement Policy and the Procurement Guidelines based on the following basic philosophy to fulfill our ESG (Environmental, Social, and Governance) requirements and promote CSR activities. A detailed content can be found on our company website.
Procurement Policy&nbsp
Comply with laws, regulations, and social norms
Conduct environmentally friendly procurement activities
Provide fair trading opportunities
Deepen communication with the supply chain
Promotion of CSR procurement
The Purchasing Department promotes the procurement of raw materials in tandem with the CSR activities.
We search with a global perspective for financially sound partner companies that are capable of continuous transactions, and endeavor to establish a robust supply chain. In particular, we work to secure multiple suppliers for each raw material and to diversify the countries from which we procure.
Based on Hodogaya Chemical's Procurement Policy, we ask our partner companies to conform with environmental, social, and governance needs such as management of chemical substances, reduction of the environmental impact of the raw materials, and respect for human rights throughout the supply chain. We will conduct visiting audits and questionnaire surveys, and work to deepen mutual understanding and establish mutual trust with our partner companies and to conduct improvement activities.
Voice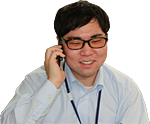 Purchasing Department
Yusho Oda
What I aim for in procurement operations
I handle the negotiation of prices and date of delivery of raw materials that are used in the plant, and also manage inventory. As a second year employee, I have much to learn on chemistry and on my job. It's a busy but rewarding job.
There are a few things that I always keep in mind when doing my job: one is to never run out of raw materials to be delivered to the plants; and to be fair and equitable in purchasing products and commercial goods from our partner companies. For on-going purchases, we try to meet face-to-face with partner companies and have in-depth communications on a regular basis, and for new purchases, it is important that we exchange information with various suppliers. Negotiating prices can be tough at times, but I wish to deal with our partner companies in a sincere manner and fulfill my responsibilities for procurement.