Basic approach
In protecting the environment, we consider it a corporate responsibility to continuously reduce the emission volumes of all chemical substances released into the air, water, and soil, and the volume of waste discharged in the course of business operation. In order to improve the environment, safety, and health of all stakeholders, we established the environmental management system (EMS) under the basic philosophy of Responsible Care (RC) and undertake continuous improvements.
One initiative was the ISO 14001 certification which we acquired in December 2001. We use the ISO 14001 management system as a means (tool) for environmental conservation and work to reduce environmental impact.
Material flow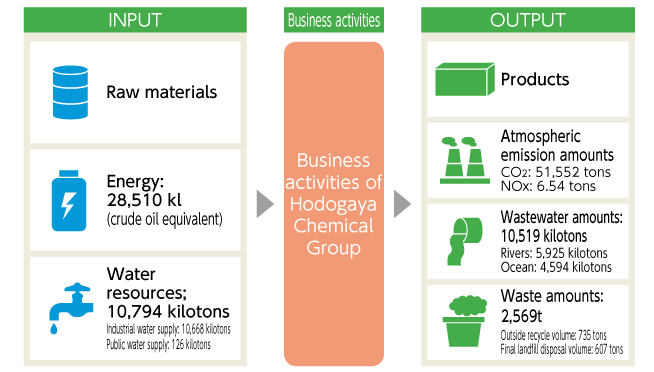 Promotion of energy-saving and resource-saving
In order to effectively use limited resources, we are promoting energy saving across all Group companies. At each plant, we have taken initiatives to promote the reduction of fuel and electricity usage, such as optimization of process control values, aggressive introduction of energy-saving equipment, recovery and reuse of steam, and increase of steam piping efficiency, through which we set a target to reduce the energy intensity by an average of 1% per year over a five-year period. As a result, we met this target by achieving a 1.0% annual reduction in FY2017.
Promotion of industrial waste reduction and effective resource utilization
Through ongoing initiatives, we have been able to achieve significant reduction in the industrial waste volume generated from our business activities. Although we have not seen major improvement in recent years, we always include in the annual RC plan our goal to reduce the volume from the previous fiscal year, and we will continue to accumulate small improvements to achieve reduction.
The Group also promotes the 3R initiative (reduce, reuse, recycle) to reduce the disposal volume of industrial waste.
Certified to use the Eco Rail Mark
As an initiative to protect the environment, the Group has been pursuing a modal shift in cargo transport (from truck to rail transport) for many years. As a company actively grappling with environmental issues, Hodogaya Chemical was certified to use the Eco Rail Mark additionally for our four environmentally friendly, rail-transportable products.

Voice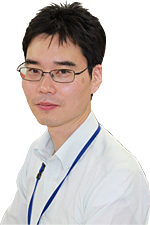 Environment・Safety & Quality
Assurance Department
Satoru Shibata
ISO 14001 internal audit
Some of the things I take note as an ISO internal auditor include whether the documents assessing the environmental impact of our products are properly produced, and whether the concept of product lifecycle from procurement of raw materials and manufacturing to disposal and recycle is integrated in the product development process. Once we actually conduct the audit, we can clearly see that the progress of specific initiatives to resolve issues are properly documented, and training sessions are well planned.
Continuous efforts must be made to protect the environment. I believe that our Company can continue to help protect the environment as a chemicals company through the provision of materials that could limit the product's power consumption or through development of herbicides and pesticides that are friendly to the ecosystem.
Prevention of atmospheric pollution
Consumption of energy and emission of carbon dioxide are steadily being reduced by consistent implementation of energy-saving initiatives.
We have completed the switching of raw fuel used in our plants to urban gas in FY2011, through which we achieved significant reduction in SOx and NOx emissions.
Prevention of water pollution
Water released during the manufacturing process is treated in an advanced manner at the on-site wastewater treatment facility within the plant, and released into the public water bodies after the water quality clears regulatory values. We will continue to improve the water quality and work to prevent the pollution of oceans and rivers.