Functional Polymers: Enrich everyday life from clothing to hybrid automobiles
Among the functional polymers that Hodogaya Chemical supplies, polyurethane materials may be the most prevalent in our daily lives, as they are used in stockings, training wear, cushions, bags, automobile parts, and a number of other common products.
Polyurethane is used in a wide variety of applications, but let us turn our attention to clothing applications here.
Polyurethane fibers are elastic, meaning that they expand and contract like rubber. However, polyurethane has greater elasticity than rubber, and is lighter in weight. When combined with other common fibers, these properties result in stockings that are easy to move in, fit well and look attractive. Polyurethane is also essential to training wear, where ease of movement is a must.
Recently, elasticity has been added to all sorts of garments, from jeans to menswear. If the tag lists polyurethane as an ingredient, you know that the garment has some stretch.
Applications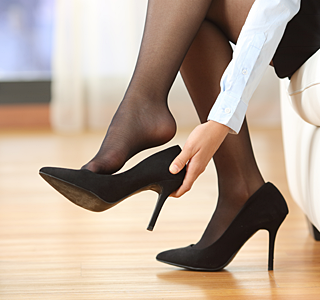 Stockings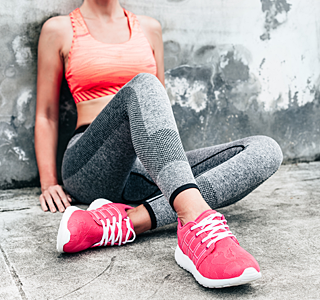 Sneakers & Training wear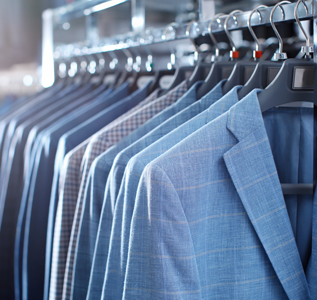 Suits
Spotlight on Products and Technologies
Polyurethane Materials
Polyol

PTG、PPG

Isocyanate

MDI、TDI

Plyurethane

elastic fibers
Hodogaya Chemical manufactures and supplies PTG, a polyol used to manufacture polyurethane. PTG is an essential ingredient of spandex, and it's no exaggeration to say that the current popularity of spandex is due to the advent of PTG.
The function of PTG is to give elasticity and durability to polyurethane and polyester materials. It is a raw material for a wide range of products, from automobile parts to spandex. As one of the leading manufacturers of PTG, with various grades for countless applications such as plastic lenses and optical fiber coatings, we have established a great reputation; yet, we continue to explore new fields. In addition to PTG, we also provide special adhesives and curing agents.
Building on the PTG technology it has long cultivated, Hodogaya Chemical also supplies PTG-L, a higher performance polyol.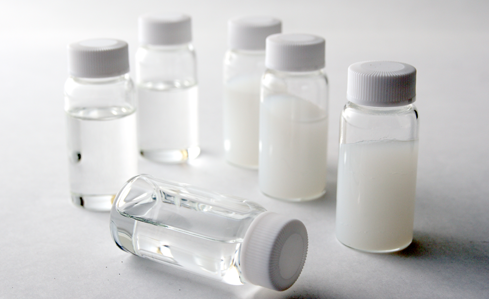 Left:PTG-L.  Right:PTG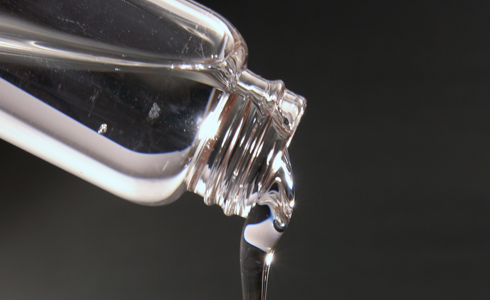 PTG-L
PTG is solid at room temperature, and is heated and melted at the time of use. PTG-L stays in the liquid form, making it extremely easy to use.
Polyurethane made with PTG-L is more elastic than that made with PTG, and it retains its softness and elasticity at low temperatures. This property comes in handy in applications such as optical fiber cladding material, protecting the delicate fibers in a wide variety of environmental conditions.
PTG-L, which can be used under conditions that are difficult for standard PTG, is a polyol with a great deal of potential. With this product, Hodogaya Chemical is using its high technical capabilities to great effect.
Creating New Value with PTG
PTG is a prime example of the "high performance, high value-added creation" model that Hodogaya Chemical aspires to. Hodogaya Chemical's use of PTG led to the creation of new value, in the form of elasticity and softness.
Hodogaya Chemical's Global Standard
Hodogaya Chemical succeeded in manufacturing PTG for the first time in Japan at 1963. A number of improvements were subsequently made, and the manufacturing process became the mainstream process used throughout the world. Perhaps we can say that creating a global standard is part of the 'chemistry' for Hodogaya Chemical.
Products
Raw materials for antiseptic detergents, surfactants, dyestuffs, perfumes, etc.
 Functional Chemicals Division